Social Media for Impact: Insights from our Global Health Moments webinar
Social media can be an extremely powerful tool for organisations to make an impact. Get it right, and your campaign could reach millions of people and secure crucial funding. Get it wrong, and your message may fall flat or – worse – become a target for trolls.
Social media is also in continuous evolution. New channels and trends emerge constantly, platforms update the algorithms that push content to the feeds, and the way people use social media evolves as well.
To help global health communicators navigate this space and get inspiration for their projects, we invited two social media experts to share their insights at our latest Global Health Moments and would like to take this chance to share our key learnings and insights.
Meet the speakers
| | |
| --- | --- |
| | |
| Lilian Kamanzi Mugisha, Communications and fundraising manager at Amref in Uganda, worked on a social media campaign that reached over 10 million people with vaccine and hygiene messaging during the COVID-19 pandemic in Uganda. | Dante Licona, social media strategist and consultant, was recently in Türkiye supporting WHO's communications around the earthquake that hit the region in February 2023. |
Our key takeaways
To TikTok or not to TikTok: what is the secret to a successful social media presence in global health?
One of the pressing questions for social media managers in global health is whether they should venture into new channels: Instagram reels, TikTok, WhatsApp or Telegram, just to mention some.
These new channels can open unprecedented opportunities for global health organisations. For example, TikTok rewards quality content over connections, enabling even organisations with a modest following to potentially reach tens of thousands of people if their content is timely and creative.
TikTok's emphasis on creative content makes it a channel worth monitoring for inspiration. But should all organisations take the leap?
"Some organisations simply don't have the capacity to publish excellent content across multiple channels, and that is ok," said Dante. "Assess your capacity. Honestly and realistically." Do you have the skills, team and internal support to venture into TikTok, WhatsApp, or Instagram reels? If not, focus on excelling on the traditional channels, the ones you have built over the years, and get creative with the distribution – for example by enlisting the help of influencers.
The power of influence: mobilising ambassadors for public health impact
Influencer marketing is one of the biggest social media trends, and Amref's recent work in Uganda is a great example of how this tactic can generate public health impact.
During the COVID-19 pandemic, the Amref Uganda office launched a campaign across TV, radio, and social media, to shift the narrative around hygiene practices and vaccines. By combining these efforts with in-person outreach campaigns, they reached a significant portion of the population, raising awareness and inspiring action and ultimately helping to curb the transmission of the disease.
To connect with younger demographics, Amref collaborated with influencers who amplified their message, particularly on TikTok, a platform where Amref doesn't currently have a presence.
"Influencer engagement can be very powerful. People may not respond to a message from an organisation, but they will pick it up if it comes from a respected figure in their community, especially if they are within their age group," explained Lilian. "We selected our campaign's ambassadors carefully. As a health organisation, it was important to look for people who were aligned with our organisation's mission and vision. We looked at their personalities, their followers, the brands they support. We selected people who are role models, and we also included people with disabilities."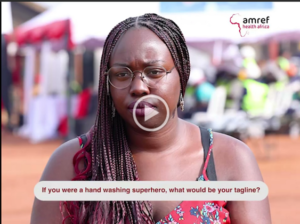 In addition to brand alignment, Lilian and Dante shared two tips for organisations looking to drive change by working with influencers:
Build long-term relationships: having a pool of pre-positioned ambassadors can make a difference when swift action is required. Take the example of the Danish Red Cross, whose pool of engaged supporters helped share a timely call for donations when the Ukraine conflict started, contributing to a record-breaking fundraiser.
Micro-influencers matter: you don't need A-list celebrities or big budgets to have an impact through influencer marketing. Depending on your target audience and message, a global health expert or a development thought leader may be the right person to help amplify your message.
Content that breaks through the noise
With over 3.5 million YouTube videos, 500 million tweets, and one billion Instagram stories published every day, standing out on social media is no easy feat.
To ensure your message gets across, ask yourself: Who are the people you want to reach, and what content can set you apart, and help you achieve your goals?
When Dante joined the WHO team tasked to raise awareness of the response to the earthquakes in Türkiye, the first thing the team did was to take a step back and reflect on their role and approach. Media organisations were already on site, reporting on the catastrophic impact of the earthquake.
"We decided we would not pursue images of rubbles and destruction, but we rather spent time listening to health workers and patients and record their testimonies" explained Dante.
"We visited the international emergency teams working with the Turkish Ministry of Health, responding to the worst natural disaster that hit Europe in a century. We wanted to hear from them and listen to their stories, and they opened their hearts. And what came across was a strong message of resilience and hope. Humanity coming together in the most challenging time."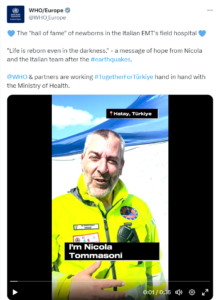 Developing and publishing a striking post, however, is only the first step. Give your content an extra boost and make sure it reaches the right feeds by sharing it with your network. Don't hesitate to be creative: share it through WhatsApp groups, direct messages, emails and newsletter.
A strong message that came across our conversation with Dante and Lilian was the power of collaboration. "We did not run our campaign alone," said Lilian. From internal champions, to ambassadors, donors, thought leaders and partners, building solid relationships and working together is crucial to generate impact.
Are you ready to take your organisation's social media presence to the next level? At Infinity Communications we would be happy to support. Contact us to find out how.
By Marina Monzeglio, Account Director at Infinity Communications.